A Ball of a Time Awaits | Bang-On Balls: Chronicles Launches on PC, PlayStation, Xbox, and Switch October 5th, 2023
A massive new open-world map set in Japan added to the already content-loaded game for the final release
11 September 2023, Warsaw, Poland - Exit Plan Games and Untold Tales have announced that Bang-On Balls Chronicles will be launching on PC, PlayStation, Xbox, and Switch on October 5th, 2023.
Bang-on Balls Chronicles is a content-loaded, goofy, destructible open-world, sandbox adventure with combat, platforming, character customization, and collect-a-thon scavenger hunting experience that you can play solo or in co-op.
While in Early Access, the game amassed a 97% Overwhelmingly Positive rating on Steam from 2300+ reviews. ​
​​
​Any press, streamers or other content creators interested in covering Bang-On Balls: Chronicles can request a review copy here: piratepr.com/bang-on-balls-key-request
Bang-On Balls: Chronicles Release Date Trailer:
Press kit: bit.ly/BOBCPressKit
​Steam: store.steampowered.com/app/1227650/BangOn_Balls_Chronicles
​Press contact: [email protected]
---
About the game
Bang-On Balls: Chronicles is created by Exit Plan Games, a team of highly experienced developers who previously worked on AAA titles such as The Witcher 3, Gears of War, Cyberpunk 2077, and Bulletstorm to name a few. 
"Throughout our careers, we've been making games that demanded a very high level of production on a lot of fronts. Tight controls, varied gameplay, smart level design, loads of content, intricate AI systems, the list goes on. All so that these massive maps felt alive and fun to play in for hours and hours. Despite now being an indie dev, we applied the exact same approach and standards here. The game is fundamentally built around the idea of giving players something that is absolutely stuffed with varied things to do but is always fun to play. It's something that can easily be fired up for a few relaxing minutes and feel like you made progress, or be a game you play for 40+ hours or more."
​- Damien Monnier, Studio Co-Founder, Exit Plan Games
The launch in October will see the game get yet another open-world map, that has players time-traveling through feudal and modern Japan to fight a giant Kaiju. All owners of the game on PC will get this content for free.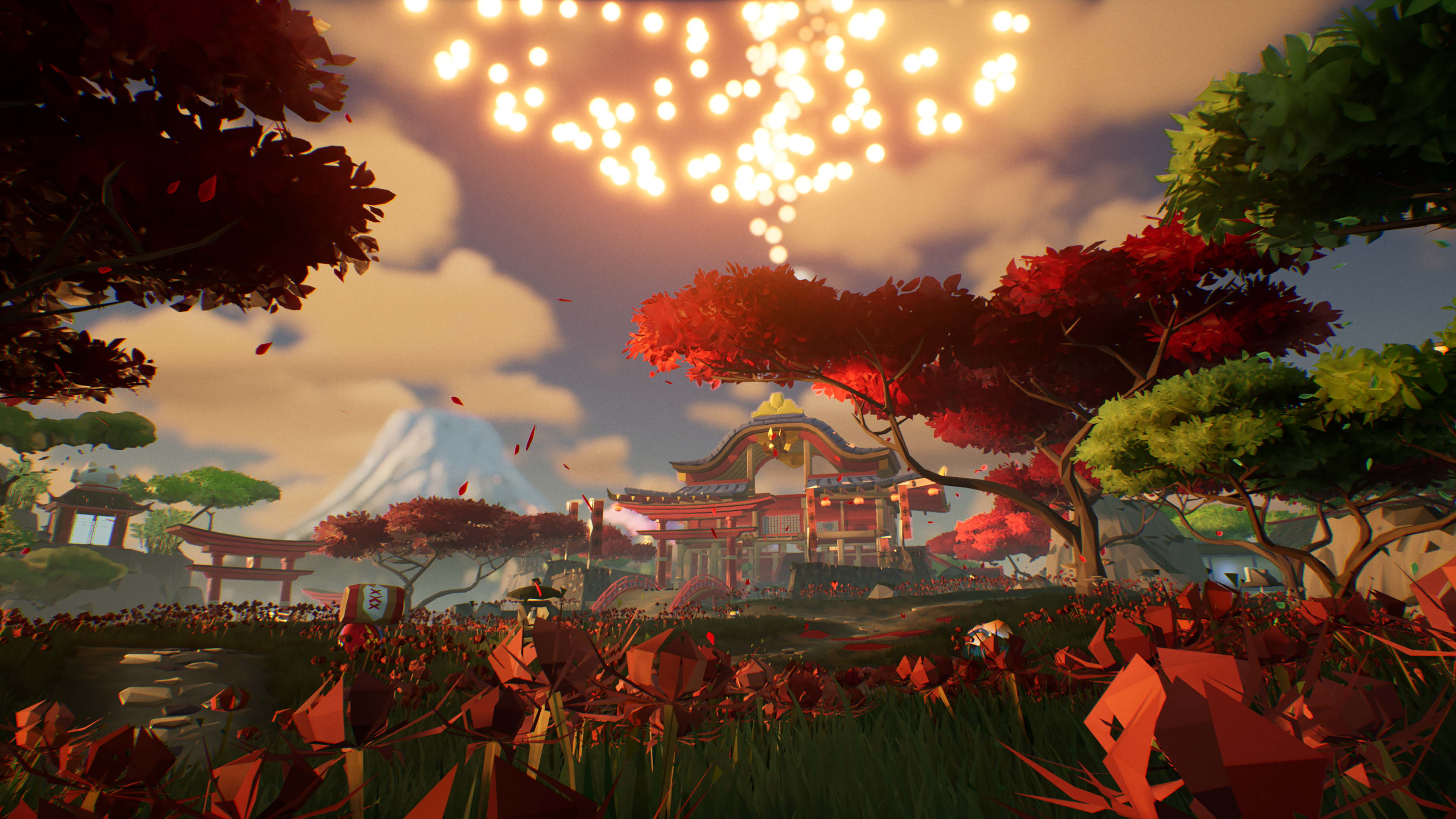 Key features
Glorious bouncy 3D platforming and combat with razor-sharp controls.
Smash, dash, and steamroll around massive, highly destructible, open-world maps.
Absolutely loaded with content. Fight foes, rescue allies, take on multiple objectives, uncover secrets, and collect treasure troves of themed items and weapons. Each map has its own unique mechanics, boss fights, secrets, items, and themes.
Bounce Around History as each map is set in an interesting historical era - Vikings, Pirates, Space Race or Feudal Japan with more to come as post-release support.
Customize your character with 400+ items - flags, weapons, shields, hats, masks, tattoos, boats etc and all collected from playing. No paid cosmetic DLCs.
Up to 4-player online co-op and 2-player split screen. Seamlessly jump in and out of sessions with friends and keep everything you've collected.
For more information on Bang-On Balls: Chronicles, visit the website, or follow the studio on Twitter, TikTok, or Facebook. And if you'd like to get in touch with the developers, feel free to join their Discord.
---
About Untold Tales
Untold Tales is a growing indie publishing label established in 2020 by veterans from Techland that focuses on games that have interesting and unique stories to tell. They're hungry for experiences that deliver remarkable joy and narratives to players everywhere.
​https://untoldtales.games
​
About Exit Plan Games
Exit Plan is a game development studio based in Warsaw, Poland, founded by Jose Teixeira and Damien Monnier in 2019. The founders have a combined quarter-century of experience creating AAA titles such as The Witcher 3, Gears of War, and Cyberpunk 2077. Exit Plan is a small team of passionate developers who create new video games with fresh concepts that are easy to just pick up and play.
​https://exitplangames.com
​
Copyright © 2023 Untold Tales, All rights reserved.